THE PRINTS:
You should refer to the complete display of the prints on the PrintEditions website, where they are available for sale.

The prints were produced in a limited edition of 50 copies by Kip Gresham of
Gresham Studio Ltd., Cambridge.
Sir Eduardo Paolozzi had learnt about Alan Turing from reading my book Alan Turing: the enigma, and had incorporated in the prints a number of excerpts from my text.
My knowledge of Paolozzi's work was mainly through his mosaics in Tottenham Court Road underground station in central London. (I saw a lot of these while they were constructed in the early 1980s, as I used the station every day to go to the YMCA gym.) Anyway, I liked the choices of excerpted passages from my book, which were not by any means the most obvious or famous points.
The request for permission to reproduce them as text in the prints was the immediate reason for my visit to his studio in Chelsea in March 2000 to meet him and to see the work. In fact I had the pleasure of a whole afternoon in Chelsea talking with him and a group of his students as well.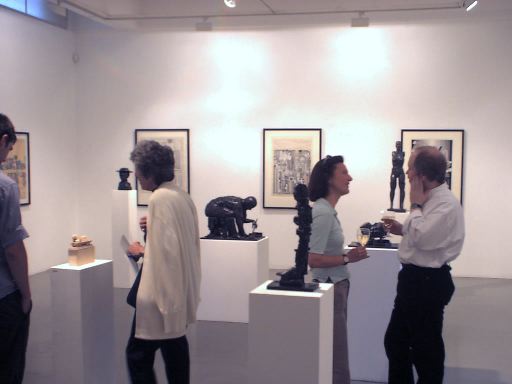 I met him again later in London on 10 June 2000 when the prints were exhibited at Flowers East amongst a larger collection of Sir Eduardo's work. I am highly suspicious of claims of artists to say anything significant about science and scientists. BUT...
...I recognise something of my own style, though of course far more concentrated and intense in Paolozzi's work: a web of iconic allusions, quotations and links, some public and some private, almost secret. Alan Turing: the enigma has this character in its buried quotations and puns.
Sir Eduardo encouraged me to take up painting. I liked that encouragement very much, but told him I wrote music instead.
Next, the prints were on display at a conference on Mathematics and Art, held at the Department of Continuing Education, University of Oxford, on 23-24 September 2000. Sir Eduardo Paolozzi had agreed to speak about them but then was unable to come because of illness. But the print-maker Kip Gresham gave a talk about Sir Eduardo's work and the technical aspects of the print production. Then another speaker failed to materialise and to fill the gap I improvised some remarks about the prints. The following remarks are based on what I said at that conference.
---
It is a striking and refreshing fact that Paolozzi nowhere uses an image of Alan Turing's face or body. This is not because he is averse to representation: his treatment of Wittgenstein, for instance, is full of facial images.
Above all, there are none of those digitalised faces, those landscapes of ASCII symbols, which countless art-works have used to signify the cold world of science, the modern world of computers and so forth.
Instead the True Icons, the links with veracity and the historical 'real person', come only through the medium of bits of text, some of it his own typewriting but more of it my text and typography.
Nevertheless the prints are not just 'inspired by' Turing — there is a closer connection. The sequence of prints is roughly biographical. But it is the life of the mind that is drawn, not the outward features of the body.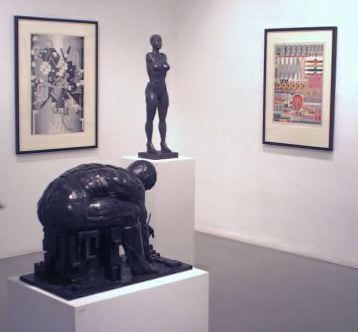 In particular Paolozzi makes no use of the contours of the male body, as he does so strikingly in his in Blake/Newton sculpture (now in the British Library piazza), even though Turing as a marathon runner would lend itself to this. Nor is there any hint of 'sexual ambiguity', let alone the coy, fey images that some artists seem to think appropriate to convey sensitive and vulnerable souls.
---
There is no reference to Turing's 'personal life' — the chosen texts are all 'science' texts. But science is personal, in these images: it is as individual as anything could possibly be.
Another striking and refreshing fact is that Paolozzi does not treat Turing as a shadowy character of mystery; there are no dim shades, blurred visions. Here the most secret becomes the most brightly coloured, bold as brass.
---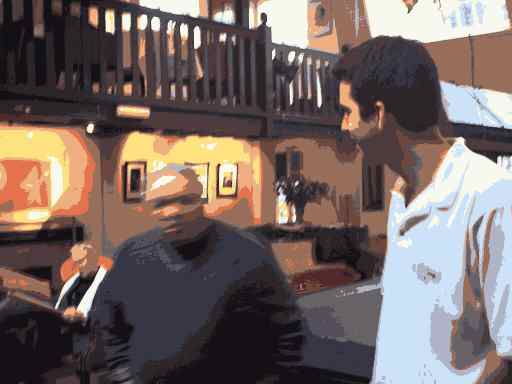 Sir Eduardo in the Chelsea Arts Club with another student, 20 March 2000.